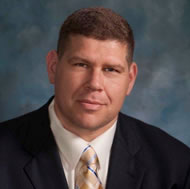 Patrick Curran, MBA - Founder of American Business Strategies

Patrick Curran was born in West Haverstraw, NY and attended North Rockland High School where he was a 3 sport athlete and President of his Class. Choosing to enlist in the Army in order to attend West Point Preparatory School, Patrick graduated from the United States Military Academy at West Point in 1997 where he served 5 years as a US Army Engineer Officer. Positions he served in included: Platoon Leader, Company Executive Officer, and Assistant to the Chief of Staff, 10th Mountain Division. Patrick also graduated from the US Army's Airborne and Air Assault schools and led teams through the Sapper Leader Course, the Jungle Operations Training Center in Fort Sherman, Panama and various advanced war-fighter deployments utilizing next generation technologies.

Since exiting the military in 2002, Patrick has served in several leadership roles at Pfizer and has earned both a MS in Human Resources and MBA in Finance from Fordham University. He is a certified Lean / Six Sigma Black Belt and credentialed Project Management Professional (PMP). Currently, Patrick serves as Chief of Staff, supporting Pfizer's Worldwide Safety & Regulatory organization. Additionally, Patrick was named the 2014 New York State Small Business Development Center's Veteran Entrepreneur of the Year.

Most importantly Patrick values his time with his wife and children. From the age of 15, he and Gina have supported one another and today have the joy of raising their three girls Elizabeth, Lauren, and Julia. With the support of his family, Patrick also launched his Freedom's Light Charity Program supporting severely wounded military, first responders, and children impacted by the Global War on Terror. Patrick sees his fundraising work not only as an opportunity to give back, but as a way to teach his children the lesson that freedom is not free.

When working with Patrick, one experiences a combination of business expert, motivational coach, and leader. To learn more about Patrick and his charity efforts visit his website at www.freedomslight.org.